Early Alpha Image - Work In Progress
​
Hello Survivors,
Today we are announcing the release date for our 0.8 Closed Alpha update. Also, we will be sharing an in-depth changelog for 0.8. There's a lot of exciting news to share, so let's get into it.
After a lot of hard work from the team, we are finally ready to share details about 0.8. For starters,
we are releasing our 0.8 Closed Alpha update on Wednesday, May 25th
. To be clear, 0.8 is an experimental update and is not a feature-complete version of the game. For our development team, this is a bedrock update that lays the foundation for future updates.That said, we highly encourage our Closed Alpha testers to download and play around with this latest build so we can find new bugs and get your feedback.
To download the experimental update, please follow the instructions below.
Open Steam and login to your account.
Right-click on Dead Matter and then click on "Properties..."
You will then need to navigate to "Betas" from the list on the left-hand side.
Once you are in the "Betas" tab you will see a box titled "Select the beta you would like to opt into:"
Select "0.8.0-experimental - Closed Alpha 0.8.0 Experimental Build"
You will need to wait for the game to update.
Once the game updates, boot it up as you normally would, and you should be good to go.
Before we get into the changelog, we want to promote some job opportunities we are looking to fill. We are currently looking for an experienced Animator, and an AI Programmer. If you have a portfolio of your most recent work and a passion for working in games, we would love to see it. Please explore our full list of opportunities on our website:
https://jobs.qi.games/
Development Update​
Early Alpha Image - Work In Progress
​
Development on
Dead Matter
is barrelling ahead. As we have mentioned, our team has grown in size very quickly over the last two months. As we approach the end of our development on 0.8, we have made serious progress on organising our team to reach its full potential.
The first piece of progress we have made is ironing out the internal road map that will guide our development to an Early Access launch. This map will keep our teams organised and our priorities straight for the subsequent Closed Alpha updates in 2022. We won't be sharing this road map with the community at this time, but we will continue to share development updates through our blog.
You might be wondering why we are discussing our development plans and sharing our changelog before the release of 0.8. There are two reasons: firstly, we want our Closed Alpha testers to know about new features and changes so they can find and interact with them in game. Secondly, we want our Closed Alpha testers to play this unfinished version of the game to report bugs and give feedback to the development team. Over time, this process will ensure that our Early Access launch will be a strong step forward for
Dead Matter
.
Alright, let's get into the exciting bit!
Changelog​
Early Alpha Image - Work In Progress

For more images, please visit: Dead Matter Blog
​
Features​
Sleeping Bags​
Sleeping Bags allow the player to create a unique spawn point. All you need to do is lay a sleeping bag down and rest in it. After that, when you die, you can select your sleeping bag location on the spawn map and spawn right there. Sleeping will also let you recover your lost energy. They are a useful and important item to find when you are trying to survive in Dead Matter.
Tents​
Tents function as a large storage container. When you find a tent bag, you can carry and place it wherever you choose. You can then unpack the tent and set up your own storage area. Tents will be useful for creating makeshift bases as you explore the map.
Exshaw​
A lot of work has gone into Exshaw for this update. We have revitalised some of the existing infrastructure including houses, streets, foliage, terrain, static vehicles, and more. Essentially, everything in Exshaw has been retouched and polished. In Exshaw, you will be able to explore several buildings and outdoor areas that contain various loot items like food, drinks, and weapons. Just be wary of the Infected.
Old Mining Cave Near Exshaw​
We have also added a cave near Exshaw for players to find and explore. This cave has a small puzzle that players will need to solve in order to get through the gates. Who knows, maybe there is some loot inside.
Multiplayer​
A functioning dedicated multiplayer server is returning in 0.8. The current limit is 16 players.
Improvements​
Early Alpha Image - Work In Progress

For more images, please visit: Dead Matter Blog
​
General Stability Improvements​
We have addressed numerous small performance bugs from our 0.7.5 update.
We have also made several optimization improvements to increase the performance of Dead Matter across the board.
Essentially,
Dead Matter
should run better on various PC systems.
Respawn Stability​
Fixed HUD issue
Fixed various glitches associated with respawning
We have improved respawning in-game. Respawning should cause less issues to your performance and no longer hide the HUD.
Gameplay Adjustments​
Less fall damage from non-lethal heights
Loot spawn locations have been reworked
Improved drag and drop behaviour for pouch and inventory slots
Added blood splatter vignette
Added directional damage indicator
Gameplay should feel more natural. You will no longer auto roll everytime you drop off a ledge. Rolls will only trigger after you fall from a reasonable height. Other areas of gameplay should feel smoother.
A blood splatter will vignette around your screen as you take damage. You will also see a directional damage indicator when you take damage to help you in combat.
Foliage Optimization​
New level of detail system for trees in the distance
Better implementation with level design
We have improved LODs for trees in the distance and improved their implementation in our level design.
Updated Animations​
New walk cycle animation
Polished MKVII pistol animation and C7 rifle animation
Improved audio implementation in some animations
Our animation team has been hard at work fixing and improving various animations in
Dead Matter
.
Audio​
Infected will now make sounds when you hit them
Bug Fixes​
Infected spawners are working again in singleplayer and multiplayer modes
Survival gauges are functional, and will deplete as you move around or receive damage

You can now die of starvation or thirst
Corresponding death screens will appear on death

Character stats will reset upon death
Weather effects should not appear on player customization screen
Random loot will now spawn in containers
Known Bugs​
Various issues with Infected
An updated version of this changelog will be posted on May 25th, 2022.
Conclusion​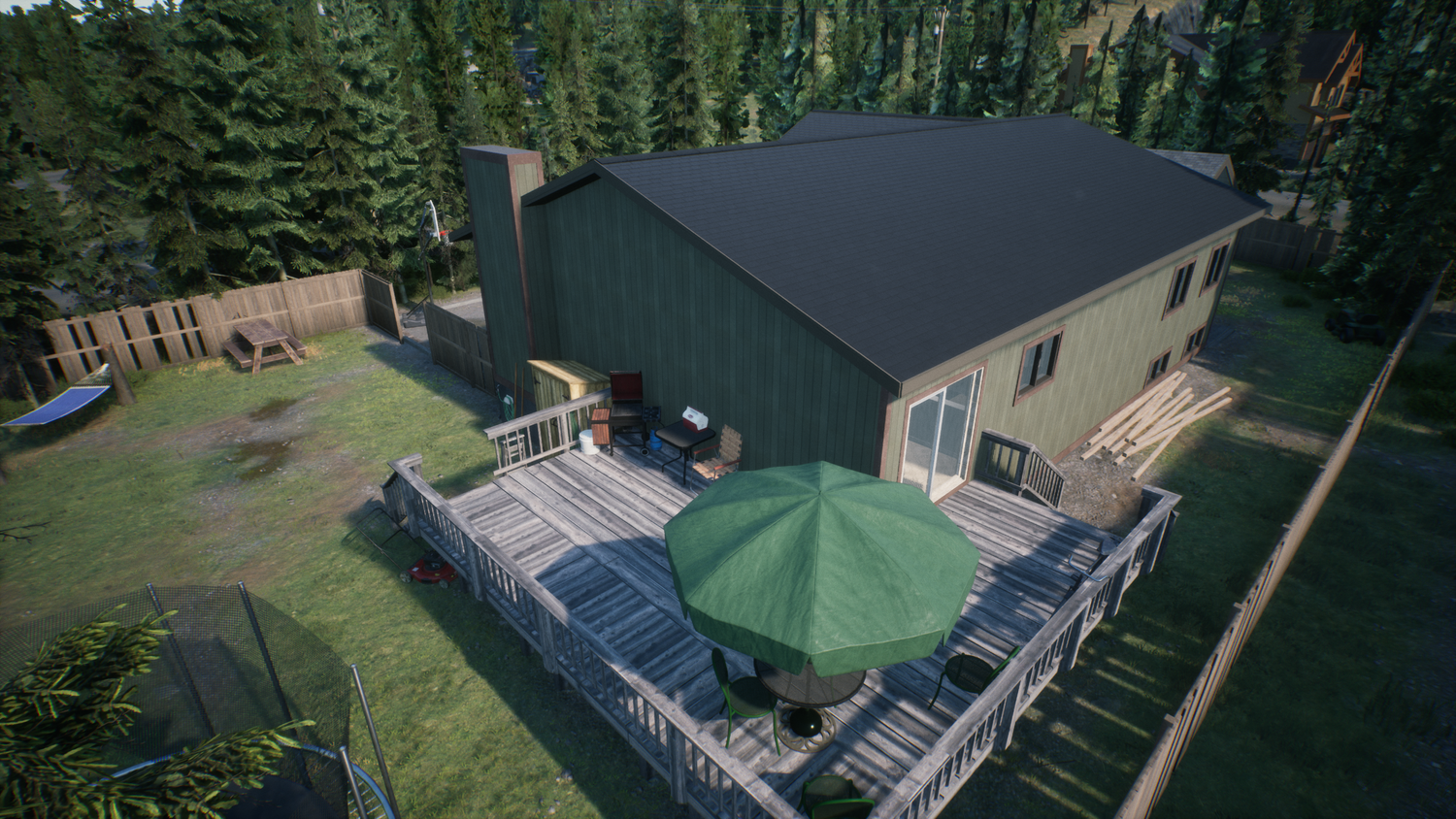 Early Alpha Image - Work In Progress
​
That's all folks! We are enormously proud of our team for delivering 0.8. This update had its own unique set of challenges, mainly our immense growth since the beginning of the year, but they have only set us up for future successes. We have new employees, a renewed sense of direction, and, most importantly, an updated internal road map that will take us to launch.
Our next major update will be patch 0.9, and we have already begun working on various features for it. Of course, we are still putting the finishing touches on 0.8 and will be monitoring its release for pressing bug fixes. We don't want to get too ahead of ourselves, but the future has never been more exciting for
Dead Matter
, and we at QI Games are excited to share what we have in store. Though you will need to wait until we are ready to share the details on 0.9, for the time being,
if you are a Closed Alpha tester, we highly encourage you to give 0.8 a shot and let us know about any bugs you encounter when it releases on Wednesday, May 25th, 2022.
Our next blog will post on May 25th. That blog will be a reiteration of the changelog we shared today and a brief commentary from Tim and NikZ. On June 3rd, we will post another blog that will reflect on the launch of 0.8. At that time, we will begin asking for questions for our AMA. The AMA will be limited to Closed Alpha Testers and Media Partners. The reason being that we want these questions to relate to 0.8 and their experiences with that build. We will not be answering any questions about our release plans or questions that are not relevant to 0.8. We will do our best to select questions that address topics which are popular among the community in general.
Stay tuned for more news over the next few months as we march towards our next Closed Alpha update.
Have a great weekend,
Anton